Reading Time:
< 1
minutes
Many trainers and coaches preach the importance of the lowering portion during lifting as they believe it to be more important for growth. The reality is that many of the studies that show this to be the case used greater loads during eccentric-only training compared to concentric-only training. Since normal training involves the same weight during both the eccentric and concentric portion, the eccentric growth benefit doesn't occur! If you want to train true eccentrics to maximize growth, you need to train with very heavy weights and use the lowering portion only. Check out our article, "Eccentrics and Growth," here for more info.
Source: Schoenfeld, B. J., Ogborn, D. I., Vigotsky, A. D., Franchi, M. V., & Krieger, J. W. (2017). Hypertrophic effects of concentric vs. eccentric muscle actions: a systematic review and meta-analysis. The Journal of Strength & Conditioning Research, 31(9), 2599-2608.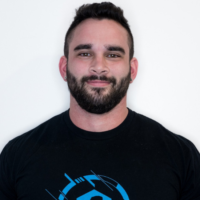 From being a mediocre athlete, to professional powerlifter and strength coach, and now to researcher and writer, Charlie combines education and experience in the effort to help Bridge the Gap Between Science and Application. Charlie performs double duty by being the Content Manager for The Muscle PhD as well as the Director of Human Performance at the Applied Science and Performance Institute in Tampa, FL. To appease the nerds, Charlie is a PhD candidate in Human Performance with a master's degree in Kinesiology and a bachelor's degree in Exercise Science. For more alphabet soup, Charlie is also a Certified Strength and Conditioning Specialist (CSCS), an ACSM-certified Exercise Physiologist (ACSM-EP), and a USA Weightlifting-certified performance coach (USAW).