Reading Time:
< 1
minutes
This study found that 20-40g of protein post-workout was more effective than 0 or 10g at increasing protein synthesis in trained individuals. If gaining muscle mass is your goal, adequate protein intake is incredibly important – consuming less than optimal amounts of protein can impair your muscle gains. Larger and more trained individuals may benefit from the higher end of the 20-40g spectrum, especially when considering long term gains.
Source: Witard, O. C., Jackman, S. R., Breen, L., Smith, K., Selby, A., & Tipton, K. D. (2013). Myofibrillar muscle protein synthesis rates subsequent to a meal in response to increasing doses of whey protein at rest and after resistance exercise. The American Journal of Clinical Nutrition, 99(1), 86-95.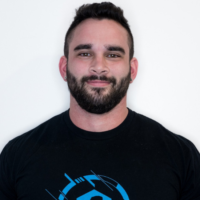 From being a mediocre athlete, to professional powerlifter and strength coach, and now to researcher and writer, Charlie combines education and experience in the effort to help Bridge the Gap Between Science and Application. Charlie performs double duty by being the Content Manager for The Muscle PhD as well as the Director of Human Performance at the Applied Science and Performance Institute in Tampa, FL. To appease the nerds, Charlie is a PhD candidate in Human Performance with a master's degree in Kinesiology and a bachelor's degree in Exercise Science. For more alphabet soup, Charlie is also a Certified Strength and Conditioning Specialist (CSCS), an ACSM-certified Exercise Physiologist (ACSM-EP), and a USA Weightlifting-certified performance coach (USAW).