Reading Time:
< 1
minutes
Building off of what we saw yesterday, this study shows that adding isolation exercises to a compound movement-based program did not increase gains significantly when compared to subjects performing just compound movements. This means that if you're on a time crunch in your training you should focus on compound movements more than isolation exercises. Beginners will also make the majority of their gains from compound movements so take your time learning the big movements and focus on those when you start training.
Source: de França, H. S., Branco, P. A. N., Guedes Junior, D. P., Gentil, P., Steele, J., & Teixeira, C. V. L. S. (2015). The effects of adding single-joint exercises to a multi-joint exercise resistance training program on upper body muscle strength and size in trained men. Applied Physiology, Nutrition, and Metabolism, 40(8), 822-826.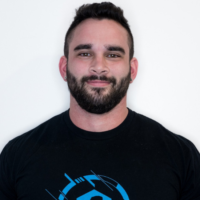 From being a mediocre athlete, to professional powerlifter and strength coach, and now to researcher and writer, Charlie combines education and experience in the effort to help Bridge the Gap Between Science and Application. Charlie performs double duty by being the Content Manager for The Muscle PhD as well as the Director of Human Performance at the Applied Science and Performance Institute in Tampa, FL. To appease the nerds, Charlie is a PhD candidate in Human Performance with a master's degree in Kinesiology and a bachelor's degree in Exercise Science. For more alphabet soup, Charlie is also a Certified Strength and Conditioning Specialist (CSCS), an ACSM-certified Exercise Physiologist (ACSM-EP), and a USA Weightlifting-certified performance coach (USAW).