Reading Time:
< 1
minutes
The first and most important key for muscle growth is, "mechanical loading." This is just a fancy way to say, "Resistance training." You cannot make significant gains without lifting! Make sure the majority of your training weights are over 60% of your 1RM and shoot for 6-12 reps per set at these higher intensities to maximize hypertrophy. Periodization is also important to continue gains in strength to allow for more mechanical loading! Check out our article, "What Causes Growth?" here for more info.
Source: Wackerhage, H., Schoenfeld, B. J., Hamilton, D. L., Lehti, M., & Hulmi, J. J. (2018). Stimuli and sensors that initiate skeletal muscle hypertrophy following resistance exercise. Journal of Applied Physiology.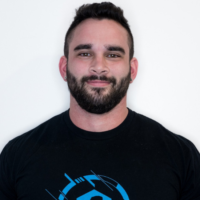 From being a mediocre athlete, to professional powerlifter and strength coach, and now to researcher and writer, Charlie combines education and experience in the effort to help Bridge the Gap Between Science and Application. Charlie performs double duty by being the Content Manager for The Muscle PhD as well as the Director of Human Performance at the Applied Science and Performance Institute in Tampa, FL. To appease the nerds, Charlie is a PhD candidate in Human Performance with a master's degree in Kinesiology and a bachelor's degree in Exercise Science. For more alphabet soup, Charlie is also a Certified Strength and Conditioning Specialist (CSCS), an ACSM-certified Exercise Physiologist (ACSM-EP), and a USA Weightlifting-certified performance coach (USAW).