Reading Time:
< 1
minutes
Several studies have found that ingesting carbs before your workout can help improve performance, especially in endurance events. Shoot for 30-60 grams within an hour before your workout to maximize the effect. If you are keto-adapted, large amounts of pre-workout carbs will probably not be best. Stick to a high-fat meal before training for a similar effect. If you don't train for more than an hour at a time, carbohydrate availability is not a limiting factor for your performance and you probably don't need a large amount of carbs before your workout.
Source: Neufer, P. D., Costill, D. L., Flynn, M. G., Kirwan, J. P., Mitchell, J. B., & Houmard, J. (1987). Improvements in exercise performance: effects of carbohydrate feedings and diet. Journal of Applied Physiology, 62(3), 983-988.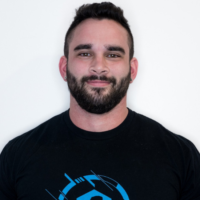 From being a mediocre athlete, to professional powerlifter and strength coach, and now to researcher and writer, Charlie combines education and experience in the effort to help Bridge the Gap Between Science and Application. Charlie performs double duty by being the Content Manager for The Muscle PhD as well as the Director of Human Performance at the Applied Science and Performance Institute in Tampa, FL. To appease the nerds, Charlie is a PhD candidate in Human Performance with a master's degree in Kinesiology and a bachelor's degree in Exercise Science. For more alphabet soup, Charlie is also a Certified Strength and Conditioning Specialist (CSCS), an ACSM-certified Exercise Physiologist (ACSM-EP), and a USA Weightlifting-certified performance coach (USAW).