Reading Time:
< 1
minutes
This study found resistance training significantly increased resting metabolism at 12-hrs post-workout and this effect continued for at least 21-hours. Other studies have shown increases for up to 38-hours after a workout! While this increase is statistically significant, most people will realistically only burn an extra 10-15 calories per hour so it's not a great excuse for a massive cheat meal after every workout.
Source: Greer, B. K., Sirithienthad, P., Moffatt, R. J., Marcello, R. T., & Panton, L. B. (2015). EPOC comparison between isocaloric bouts of steady-state aerobic, intermittent aerobic, and resistance training. Research Quarterly for Exercise and Sport, 86(2), 190-195.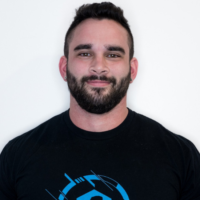 From being a mediocre athlete, to professional powerlifter and strength coach, and now to researcher and writer, Charlie combines education and experience in the effort to help Bridge the Gap Between Science and Application. Charlie performs double duty by being the Content Manager for The Muscle PhD as well as the Director of Human Performance at the Applied Science and Performance Institute in Tampa, FL. To appease the nerds, Charlie is a PhD candidate in Human Performance with a master's degree in Kinesiology and a bachelor's degree in Exercise Science. For more alphabet soup, Charlie is also a Certified Strength and Conditioning Specialist (CSCS), an ACSM-certified Exercise Physiologist (ACSM-EP), and a USA Weightlifting-certified performance coach (USAW).