Reading Time:
< 1
minutes
Isolation exercises can be useful for developing biarticulate muscles, which are muscles that cross two joints. These muscles might not achieve optimal activation in compound movements so it's important to isolate them. This means that muscles like the rectus femoris – or middle quad muscle, the hamstrings, and calves, etc. might require isolation exercises for optimal development.
Source: Ema, R., Sakaguchi, M., Akagi, R., & Kawakami, Y. (2016). Unique activation of the quadriceps femoris during single-and multi-joint exercises. European Journal of Applied Physiology, 116(5), 1031-1041.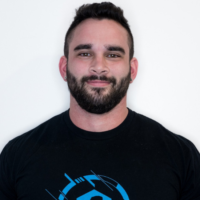 From being a mediocre athlete, to professional powerlifter and strength coach, and now to researcher and writer, Charlie combines education and experience in the effort to help Bridge the Gap Between Science and Application. Charlie performs double duty by being the Content Manager for The Muscle PhD as well as the Director of Human Performance at the Applied Science and Performance Institute in Tampa, FL. To appease the nerds, Charlie is a PhD candidate in Human Performance with a master's degree in Kinesiology and a bachelor's degree in Exercise Science. For more alphabet soup, Charlie is also a Certified Strength and Conditioning Specialist (CSCS), an ACSM-certified Exercise Physiologist (ACSM-EP), and a USA Weightlifting-certified performance coach (USAW).