Reading Time:
< 1
minutes
Instead of stretching before your workout, perform a warm-up routine instead. Studies show that simply increasing muscle temperature can improve exercise performance in several ways, one of which being the rate of ATP (energy) supply. Utilize a dynamic warmup – running, plyometrics, or high reps and low weights working muscle groups that you plan on hitting that day. 5-10 minutes and a light sweat are what you need to get started!
Source: Bishop, D. (2003). Warm up I. Sports Medicine, 33(6), 439-454.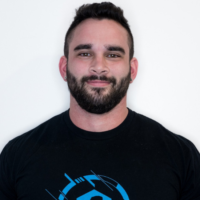 From being a mediocre athlete, to professional powerlifter and strength coach, and now to researcher and writer, Charlie combines education and experience in the effort to help Bridge the Gap Between Science and Application. Charlie performs double duty by being the Content Manager for The Muscle PhD as well as the Director of Human Performance at the Applied Science and Performance Institute in Tampa, FL. To appease the nerds, Charlie is a PhD candidate in Human Performance with a master's degree in Kinesiology and a bachelor's degree in Exercise Science. For more alphabet soup, Charlie is also a Certified Strength and Conditioning Specialist (CSCS), an ACSM-certified Exercise Physiologist (ACSM-EP), and a USA Weightlifting-certified performance coach (USAW).