Reading Time:
< 1
minutes
This study found that performing behind the head pulldowns did not increase lat activation compared to normal lat pulldowns. In addition, behind the head pulldowns place the shoulders in a compromised position which can easily lead to discomfort or injury, especially if done too heavy or too often. Use behind the head pulldowns sparingly in your training, and when you do, use lighter weights and focus on your mind-to-muscle connection.
Source: Sperandei, S., Barros, M. A., Silveira-Júnior, P. C., & Oliveira, C. G. (2009). Electromyographic analysis of three different types of lat pull-down. The Journal of Strength & Conditioning Research, 23(7), 2033-2038.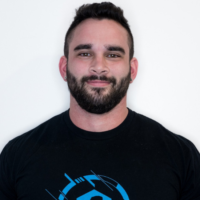 From being a mediocre athlete, to professional powerlifter and strength coach, and now to researcher and writer, Charlie combines education and experience in the effort to help Bridge the Gap Between Science and Application. Charlie performs double duty by being the Content Manager for The Muscle PhD as well as the Director of Human Performance at the Applied Science and Performance Institute in Tampa, FL. To appease the nerds, Charlie is a PhD candidate in Human Performance with a master's degree in Kinesiology and a bachelor's degree in Exercise Science. For more alphabet soup, Charlie is also a Certified Strength and Conditioning Specialist (CSCS), an ACSM-certified Exercise Physiologist (ACSM-EP), and a USA Weightlifting-certified performance coach (USAW).