Reading Time:
< 1
minutes
If you're a strength athlete or interested in increasing strength, using the mind-muscle connection may not be best for improving strength. Several studies show that using an external focus is better. You can do this by focusing on the movement of the weight or objects around you instead of your muscles contracting. For example, rather than focusing on squeezing your glutes on a squat, think about pushing the floor away from you as you stand up. This can help increase strength! Check out our article, "The Mind-Muscle Connection," here for more info.
Source: Marchant, D. C., Greig, M., & Scott, C. (2009). Attentional focusing instructions influence force production and muscular activity during isokinetic elbow flexions. The Journal of Strength & Conditioning Research, 23(8), 2358-2366.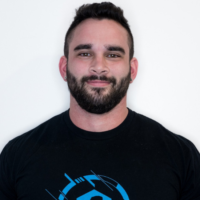 From being a mediocre athlete, to professional powerlifter and strength coach, and now to researcher and writer, Charlie combines education and experience in the effort to help Bridge the Gap Between Science and Application. Charlie performs double duty by being the Content Manager for The Muscle PhD as well as the Director of Human Performance at the Applied Science and Performance Institute in Tampa, FL. To appease the nerds, Charlie is a PhD candidate in Human Performance with a master's degree in Kinesiology and a bachelor's degree in Exercise Science. For more alphabet soup, Charlie is also a Certified Strength and Conditioning Specialist (CSCS), an ACSM-certified Exercise Physiologist (ACSM-EP), and a USA Weightlifting-certified performance coach (USAW).