Reading Time:
< 1
minutes
We've all heard the cue, "stay back on your heels while you squat." This may be good advice for a beginner, but for optimal balance and muscle activation you need to utilize the, "tripod foot." In this position, you're balancing the weight between your heel, big toe, and little toe, and you're thinking about "gripping" the floor with your toes. This can increase glute activation and may improve balance!
Source: Bullock-Saxton, J. E., Janda, V., & Bullock, M. I. (1993). Reflex activation of gluteal muscles in walking. An approach to restoration of muscle function for patients with low-back pain. Spine, 18(6), 704-708.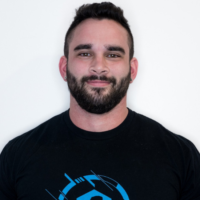 From being a mediocre athlete, to professional powerlifter and strength coach, and now to researcher and writer, Charlie combines education and experience in the effort to help Bridge the Gap Between Science and Application. Charlie performs double duty by being the Content Manager for The Muscle PhD as well as the Director of Human Performance at the Applied Science and Performance Institute in Tampa, FL. To appease the nerds, Charlie is a PhD candidate in Human Performance with a master's degree in Kinesiology and a bachelor's degree in Exercise Science. For more alphabet soup, Charlie is also a Certified Strength and Conditioning Specialist (CSCS), an ACSM-certified Exercise Physiologist (ACSM-EP), and a USA Weightlifting-certified performance coach (USAW).