Reading Time:
< 1
minutes
The researchers in this study found that well-trained powerlifters had deadlift sticking points around 95-degrees of hip flexion – this is typically where the mechanical advantage in the deadlift is the smallest. This means that you need to train movements like block pulls, rack pulls, and RDLs to improve strength in this position and increase your max. Bands and chains are another great option for improving strength in the top half of the lift.
Source: Hales, M. E., Johnson, B. F., & Johnson, J. T. (2009). Kinematic analysis of the powerlifting style squat and the conventional deadlift during competition: is there a cross-over effect between lifts? The Journal of Strength & Conditioning Research, 23(9), 2574-2580.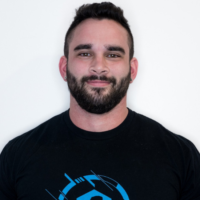 From being a mediocre athlete, to professional powerlifter and strength coach, and now to researcher and writer, Charlie combines education and experience in the effort to help Bridge the Gap Between Science and Application. Charlie performs double duty by being the Content Manager for The Muscle PhD as well as the Director of Human Performance at the Applied Science and Performance Institute in Tampa, FL. To appease the nerds, Charlie is a PhD candidate in Human Performance with a master's degree in Kinesiology and a bachelor's degree in Exercise Science. For more alphabet soup, Charlie is also a Certified Strength and Conditioning Specialist (CSCS), an ACSM-certified Exercise Physiologist (ACSM-EP), and a USA Weightlifting-certified performance coach (USAW).