Reading Time:
< 1
minutes
Muscle activation is highest in the first half of the lift when your muscles are at a mechanical disadvantage and have to produce a ton of force to overcome the weight. The mechanical advantage increases in the second half of the lift AND your muscles are aided by the momentum of the weight which ultimately lowers muscle activation in the second half of a lift. Using accommodating resistance methods can increase activation during the second half of a lift!
Source: Elliott, B. C., Wilson, G. J., & Kerr, G. K. (1989). A biomechanical analysis of the sticking region in the bench press. Medicine and Science in Sports & Exercise, 21(4), 450-462.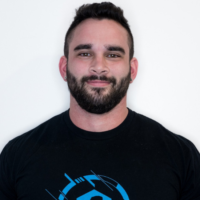 From being a mediocre athlete, to professional powerlifter and strength coach, and now to researcher and writer, Charlie combines education and experience in the effort to help Bridge the Gap Between Science and Application. Charlie performs double duty by being the Content Manager for The Muscle PhD as well as the Director of Human Performance at the Applied Science and Performance Institute in Tampa, FL. To appease the nerds, Charlie is a PhD candidate in Human Performance with a master's degree in Kinesiology and a bachelor's degree in Exercise Science. For more alphabet soup, Charlie is also a Certified Strength and Conditioning Specialist (CSCS), an ACSM-certified Exercise Physiologist (ACSM-EP), and a USA Weightlifting-certified performance coach (USAW).