Reading Time:
< 1
minutes
A common thought in the health and fitness industry is that deep squats are bad for your knees. However, virtually no research supports this theory. The anatomy of the knee joint helps stabilize the knee during deep squats and the connective tissue of the knee is rarely challenged past 50% of its peak tensile strength. Keep in mind, however, that any exercise can cause pain or injury when done wrong, so always make sure your form is perfect and use appropriate weights. Check out our article linked below for more info!
Source: Ottinger, C.R. & Wilson, J.M. (2019). Are squats bad for your knees? Retrieved from: https://themusclephd.com/are-squats-bad-for-your-knees/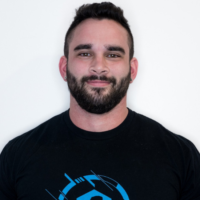 From being a mediocre athlete, to professional powerlifter and strength coach, and now to researcher and writer, Charlie combines education and experience in the effort to help Bridge the Gap Between Science and Application. Charlie performs double duty by being the Content Manager for The Muscle PhD as well as the Director of Human Performance at the Applied Science and Performance Institute in Tampa, FL. To appease the nerds, Charlie is a PhD candidate in Human Performance with a master's degree in Kinesiology and a bachelor's degree in Exercise Science. For more alphabet soup, Charlie is also a Certified Strength and Conditioning Specialist (CSCS), an ACSM-certified Exercise Physiologist (ACSM-EP), and a USA Weightlifting-certified performance coach (USAW).