Reading Time:
< 1
minutes
Use your natural build for a deadlift advantage. Lifters with longer legs and shorter torsos will usually be able to lift more weight in a sumo stance – this is why women are typically better sumo deadlifters than conventional deadlifters. If you have a long torso and shorter legs, stick to conventional deadlifts. If you're only concerned with building muscle rather than picking a stance for a 1RM, use both types in your training for optimal development.
Source: Hales, M. (2010). Improving the deadlift: Understanding biomechanical constraints and physiological adaptations to resistance exercise. Strength & Conditioning Journal, 32(4), 44-51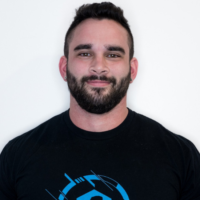 From being a mediocre athlete, to professional powerlifter and strength coach, and now to researcher and writer, Charlie combines education and experience in the effort to help Bridge the Gap Between Science and Application. Charlie performs double duty by being the Content Manager for The Muscle PhD as well as the Director of Human Performance at the Applied Science and Performance Institute in Tampa, FL. To appease the nerds, Charlie is a PhD candidate in Human Performance with a master's degree in Kinesiology and a bachelor's degree in Exercise Science. For more alphabet soup, Charlie is also a Certified Strength and Conditioning Specialist (CSCS), an ACSM-certified Exercise Physiologist (ACSM-EP), and a USA Weightlifting-certified performance coach (USAW).